Talisman Energy Inc. Proposes Fixed Fresh Water Withdrawal Pipe Link Scheme to Tap BC Hydro's Williston Reservoir for its Toxic Fracking Operations in the Montney Deep Shale Formation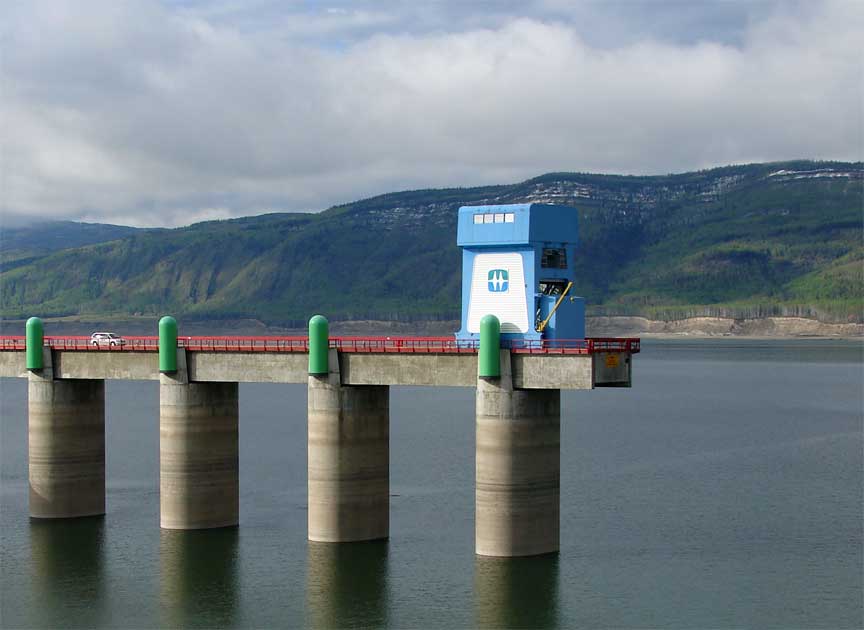 BC Hydro Williston (Main) Reservoir Intakes.



Rumours were heard by Hudson Hope area residents in 2009 that energy giant Talisman Energy Inc., was contemplating an elaborate scheme for a new and constant source of fresh water for its fracking operations on its tenured operations near and north of the small town. Those rumours were confirmed in 2010 with a descriptive presentation by representatives from the energy company to Hudson Hope Town Council, identified in the company's brochure the

Proposed Williston Water Pipeline

.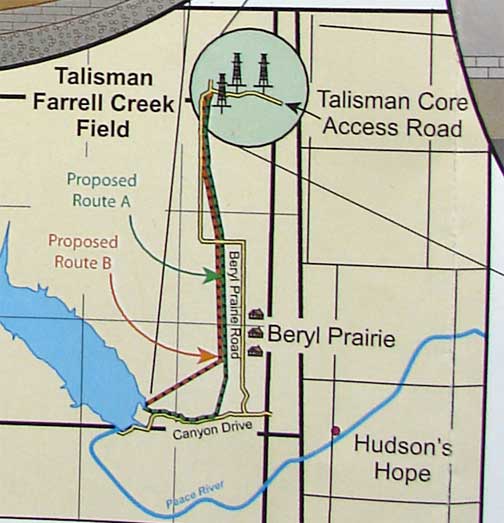 Talisman proposes to place a water intake along the shoreline area immediately north of BC Hydro Williston Reservoir Dam intakes, and then to construct a buried pipeline along a right-of-way to its new ambitious Farrell Creek development fieldoperations, to a facility on "Beryl Prairie Road at 88-I."



You are receiving this notice because Talisman Energy Inc. is applying to the British Columbia Oil and Gas Commission (OGC) for a permit to construct a water pipeline from the Peace River Williston Reservoir to a location in Talisman's Farrell Creek development field. The pipeline will be the second phase of a two-part project.

For your information, the first phase of this proposed project requires application for a permanent water license from the Williston Reservoir, and construction of a permanent water intake structure at the Reservoir.

Please refer to the attached plan for the proposed pipeline route.





The projected commencement date for pipeline construction is the summer of 2011, and it is estimated that once all necessary licenses and permits are acquired, construction will take approximately 3 months.





Construction of a water pipeline allows Talisman to reliably source water for our Farrell Creek development in a sustainable manner which is not reliant on shallow water wells.... The water for each site will then be stored on location in borrow pits and water tanks.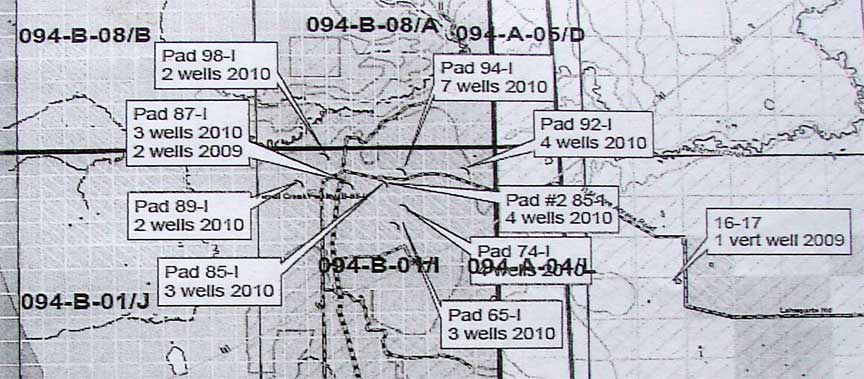 Planned Talisman Wells and Pads at Farrell Creek



The brochure includes Talisman's proposed maximum annual withdrawal figures from the Williston Reservoir, totalling 2 million, 220 thousand cubic meters, or 484 million imperial gallons, of fresh water.

To help understand how large a volume of water that is, imagine a standing building measuring 130 meters (427 feet) by 130 meters wide, and 130 meters high. That's the height of a 43-storey highrise, cubed! That's a lot of fracking water for what Talisman hopes will receive a "permanent" operational water license.

Talisman's brochure also provides a brief description on the nature of fracking, mentioning the composition percentages of water, frack sand, and "additives". Fracking companies in British Columbia, as well as elsewhere, refrain from telling the public they are using "toxics", opting for deflective soft terms such as "additives". Here, Talisman states that 0.5% of its total water use includes these toxics. If Talisman were to operationally use the figure stated above of 2.2 million cubic meters of water, it would use 11,000 cubic meters, or 2,420,000 imperial gallons, of toxics for fracking.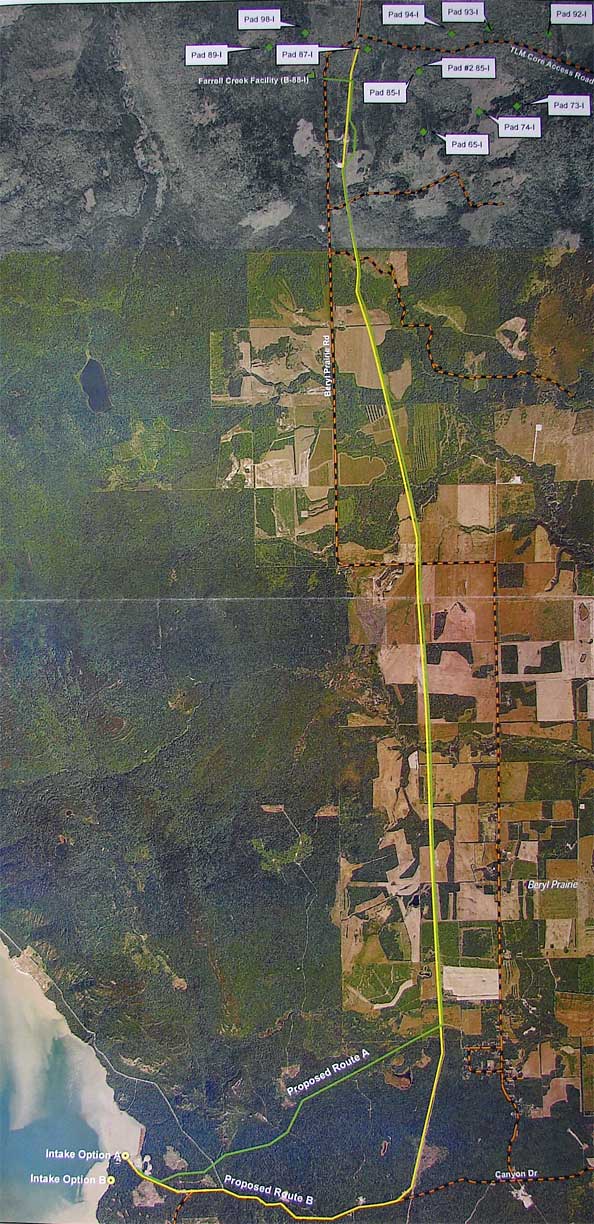 Talisman's Pipeline Options Route


A July 14, 2010 article in the Vancouver Sun, BC Hydro faces severe drought on Peace River, describes a significant dilemma faced by BC Hydro to import $220 million of electric power.


Apparently June was extremely dry in the north so it has bumped us to 77 per cent of normal inflows," Danard said Tuesday in a telephone interview.

As recently as two months ago, Hydro was forecasting that near-normal precipitation in June would allow its Williston Reservoir on the Peace to recover from a warm and dry winter that had greatly diminished the vast system's winter snow pack.

That recovery never happened, with the B.C. environment ministry confirming this week that all of the province's major northern river systems are at near record low stream flows for this time of year.

The ministry said that "these conditions are expected to persist throughout the summer unless above normal rainfall occurs.



Should Talisman acquire a perpetual, or limited, water diversion license from the Williston Reservoir, this could complicate water needs for BC Hydro.



Talisman Energy Inc. - Farrel Creek area


Talisman has been an active fracking company in the eastern slopes of the Rocky Mountains for about 20 years, fracking previously on more shallow geologic formations. With the advent of deep shale gas exploration experimental operations in British Columbia in the Fort Nelson area since about 2005, Talisman is seeking to exploit the deep shales of the northwestern boundaries of the Montney formation, which requires great amounts of fresh water. An announcement by the Daily Oil Journal on January 9, 2009, stated:



Talisman Energy Inc. has big plans for the Farrell Montney natural gas play in northeast British Columbia, with $7.5 billion in capital requirements over a 10-year period.

Talisman operates and maintains roughly 160 wells, four gas plants and associated facilities and pipelines across northeast B.C. Current production from the area is roughly 150 mmcf per day which accounts for about 15% of the company's North American gas production.




In a December 23, 2008 "E-Update" by Canadian Spirit Resources Inc., states that Talisman reported, in a December 10, 2008 presentation to Hudson Hope Town Council, that it has 25,000 gross acres of tenure in the Farrell Creek area:



The Farrell Creek area continues to attrack strong land sale prices and increasing exploration activity. On November 12, 2008, Montney Formation lands bordering the Company's Farrell Creek Project attracted prices up to $3.8 million per section ($14,8778 per hectare).





An accompanying map from late 2008 shows tenures in the Hudson's Hope area: Talisman's holdings in purple; Encana's holdings in green; Canadian Spirit Resources in yellow and light brown; and HHG (Hudson's Hope Gas Ltd.) in blue. The Peace River runs diagonally in the bottom right hand corner of the map, where the town of Hudson's Hope is located.