FRACK EU:
UNCONVENTIONAL INTRIGUE
IN POLAND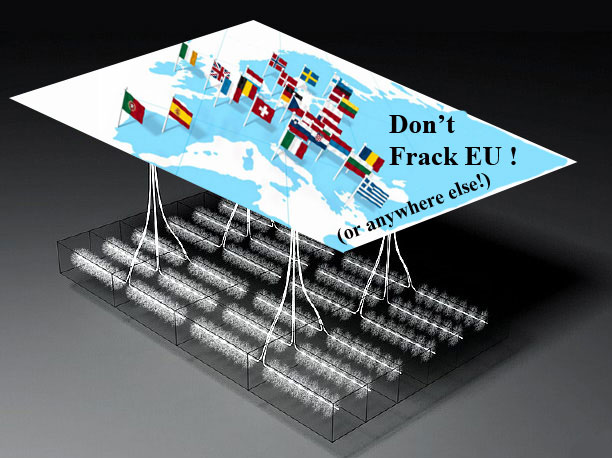 A Preliminary Investigation of the


Fracking Assault

on Poland







By Will Koop,
Coordinator,
B.C. Tap Water Alliance
Vancouver, British Columbia


Released: January 23, 2012









Unconventional fracking, by way of powerful inter-linked diesel engine brute forces, is not just about cracking up geological shales far underground. It's much more than that! It's about using other unconventional brute forces to crack governments, communities and people! In other words, in order to frack the earth, it means fracking everything! (From the Preface and Executive Summary)


This report contains a title page, tribute page to Mark Lombardi, preface, table of contents, executive summary, 15 chapters, a conclusion and appendixes. Due to its sheer length and size (in megabytes), and hundreds of images, maps and illustrations, it is divided into

pdf

downloadable separate section and chapter files (see below). Each divisional chapter / section is prefaced by the report's information title and the contents of that chapter / section.

One of the benefits and flexibilities of dividing the report in this manner is that, while the mix of all the chapters is intended to provide a cohesion of complex ideas and events concerning the fracking agenda in Poland (as part of the evolving and inter-connected fracking agenda for the world in general, through its controversial genesis in North America), a number of the chapters have stand-alone themes and features, whereby they can almost be treated as separate reports or essays. This is particularly true for chapters 5, 12 and 14.

The Chapters that deal directly with Poland are the following:
Chapters 1, 7, 11, 13, and 15. The Chapters that deal less directly with Poland, but have details on Poland, are Chapters 4, 10 and 12.

This report was researched and composed over a four month period, and was entirely financed by the author.


- Title Page
-

Tribute to Mark Lombardi


- Preface
- Table of Contents


(10 pages, 1.0 megabyte)













Chapter 1
(9 pages, 2.5 megabytes)
Who Fracked Poland First?






Chapter 2
(3 pages, 1.2 megabytes)
Russia, the EU, and the Unconventional Petroleum Complex - Natural Gas Geopolitics and PR Spins







Chapter 3
(8 pages, 0.6 megabytes)
Exxon Fracks EU First! - Experts' Report







Chapter 4
(23 pages, 2.7 megabytes)
Germany (Deutschland) Gets Ge-Fracked First (Erst)









Chapter 5


(35 pages, 1.7 megabytes)
The Baker Institute and "The Pursuit of Truth": America's Energy Policy and Business Kitchen







Chapter 6
(15 pages, 2.2 megabytes)
Royal Dutch Shell Fracks Sweden First but Suffers Shell Shock - Swedes Kick Shell's Ass out of Sweden







Chapter 7
(15 pages, 3.5 megabytes)
D-Day Poland: The
April 8, 2010 Warsaw Conference







Chapter 8
(17 pages, 0.8 megabytes)
The U.S. State Department - The GSGI (Global Shale Gas Initiative) Double Whammy






Chapter 9
(24 pages, 2.4 megabytes)
Mr. Smith's Mission: The Interstate Oil And Gas Compact Commission Comes to Europe







Chapter 10
(38 pages, 5.7 megabytes)
Harper's Men in Poland








Chapter 11
(59 pages, 8.1 megabytes)
The Poland Portal Party







Chapter 12
(70 pages, 5.6 megabytes)


Operation Synergy:

Fracking the World, Poisoning Our Minds And Hearts - the Emerging Global Dilemma of Petroleum Sponsored Strategic Messaging











Chapter 13
(10 pages, 1.5 megabytes)


The Warsaw Incident









Chapter 14
(49 pages, 7.9 megabytes)
(Well-Bore) Integrity On Trial: The Liability Nightmare






Chapter 15
(12 pages, 2.2 megabytes)
The Last Chapter: What is the Fate of Poland's Water?









Conclusion

(Not yet available

- due shortly)









Appendixes
(31 pages, 0.5 megabytes)










TABLE OF CONTENTS


Title Page


Mark Lombardi Tribute

Preface

Executive Summary

1. Who Fracked Poland First?

2. Russia, the EU, and the Unconventional Petroleum Complex - Natural Gas Geopolitics and PR Spins

3. Exxon Fracks EU First! - Experts' Report

3-(1). The Science Experts: EU Shale Intel Reports from the
AAPG
3-(1a). The 2008 Committee Report
3-(1b). The 2009 Committee Report
3-(1c). The 2010 Committee Report

4. Germany (Deutschland) Gets Ge-Fracked First (Erst)

4-(1).

Into the Rabbit Hole Hole: ExxonMobil Lures Herr Wulff to

Houston's Energy Forum Think Tank Baker Institute

4-(2).

October 19, 2011: Baker Boys' Poland Invitational

4-(2a).

What They Said and Didn't Say in Houston

- Djerejian

- Ambassador Robert Kupiecki

- Poland Undersecretary of State Beata Stelmach

- "We" and "Them" in Richard Morningstar

- Christopher Smith and the Crystal Fracking Ball

- Andrzej J. Kozlowski - ORLEN and the New Era of

Gas

(Be Careful What You Wish For)

- Halliburton's Timothy J. Probert

- Pawel Jgosiak

- Patrick Wood III - Mr. Deregulation and the Pope

5. The Baker Institute and "The Pursuit of Truth": America's Energy Policy and Business Kitchen

5-(1). General Djerejian's Circles
5-(1a). Djerejian: Baker Hughes Inc.
5-(1b). Djerejian: Occidental Petroleum Corporation
5-(1c). Djerejian: Global Industries Ltd.
5-(1d). Roofer Djerejian: Incom Roofing Service Inc.
5-(1d)-1. Wise with Haddington
5-(1d)-2. Brigadier White
5-(1e). The Baker Boys, the CFR and Cheney's Secret
Energy Task Force
5-(1e)-1. Task Force Members
5-(1e)-2. Cheney's Secret Meetings
5-(1f). Djerejian: Council on Foreign Relations and Think
Tanks

6. Royal Dutch Shell Fracks Sweden First but Suffers Shell Shock - Swedes Kick Shell's Ass out of Sweden

6-(1). Shell Launches into Public Relations Mode
6-(2). Shell says Sayonara Sweden - Hello China, Hello
Ukraine

7. D-Day Poland: The April 8, 2010 Warsaw Conference

8. The U.S. State Department - The GSGI Double Whammy

8-(1). Shale Gale Goldwyn
8-(2). Goldwyn's GSGI: Two-Birds-With-One-Stone "Whole
of Government" Approach
8-(3). The Secret Washington D.C., GSGI International
Conference
8-(4). Goldwyn's Departure - Role Playing Shift (You Know,
the Revolving Door)
8-(5). The Shadows and Mr. Morningstar

9. Mr. Smith's Mission: The Interstate Oil And Gas Compact Commission Comes to Europe

9-(1). Alabama's and Colorado's/New Mexico's
Unconventional Legacies
9-(2). LEAF Takes on the Big Petroleum Tree
9-(3). Ground Water Council Grinds the Data with the
IOGCC
9-(4). Mr. Smith in Europe

10. Harper's Men in Poland

10-(1). Canadian Ambassador Costello Heralds Canadian
Frackers
10-(2). Alberta Petro Frackers' "Public Interest" Regulator
Guinea Hen Flies to Poland
10-(3). Who is ERCB's George Eynon?
10-(4). Toxic Wasteland Alberta: A Cautionary Tale for
Poland. The ERCB and the Big No-No: Drilling-
Toxic-Waste Land-Spreading in Alberta ... "in the
public interest" (NOT)
10-(5). ERCB Ignores Alberta Wheatland County By-Law
10-(6). Petro-Alberta's Regressive Laws


11. The Poland Portal Party

11-(1). Big Petroleum and the Instant U.S.-Poland Business
Council
11-(2). The Shadow World of Geo-Political Messaging:
Public Relation Firms in Poland
11-(3). The Wroclaw Global Forum
11-(4). EU Presidency Countdown - U.S. Poland Relations
11-(4a). June 22-23, 2010
11-(4b). July 19-20, 2010
11-(4c). September 17, 2010
11-(4d). October 18, 2010
11-(4e). December 8, 2010
11-(4f). February 28 - March 5, 2011 - Sikorski's
Strategic Visit to Washington
11-(5). The fuel for the Investor's PR Gas: The EIA Global
Report on Shale Gas
11-(6). Experimenting in Poland - Pomerania (Qatar North?)
11-(7). The Concession Procession
11-(8). May 6, 2011 - "Cracking the Minds of the People"
11-(9). May 11-12, 2011
11-(10). May 18, 2011: 44 Days Before the EU Presidency -
D-Day-2. The Big Kahoona Pro-Fracking
Conference and the Organized Media Rallying Cry
Against EU Fracking Regulation in Poland
11-(11). May 27, 2011 - U.S. President Obama Arrives in
Poland (35 days to go)
11-(12). November 4, 2009 - the U.S.-EU Energy Council as
a fracking conduit into the EU
11-(13). The Supergrid
11-(14). May 31 - June 1, 2011 - One Month to the EU
Presidency

12. Operation Synergy: Fracking the World, Poisoning Our Minds And Hearts - the Emerging Global Dilemma of Petroleum Sponsored Strategic Messaging

12-(1). Back at the Ranch: The Leaked Alberta Ministry
Fracking Briefing Note and the Public Relations
Messaging Agenda about Fracking
12-(2). September 21-22, 2011 Calgary "Water" Conference
and the Synergy Shadow
12-(3). Heffernan and Trident
12-(4). Hanky McCranky Panky and the Synergy Love-In
12-(5). The Big MAC Meetings
12-(6). Enter Ernst
12-(7). Synergy's Savage: The Sin-In-Us-Energy and
Un-Holy Gas
12-(8). Synergy on the Loose - 2008 and Beyond
12-(9). The September 2011 Krakow Conferences
12-(9-1). Krakow One
12-(9-2). Krakow Two
12-(10). PsyOpsGate: Unconventional Public Relations at
Halloween Houston
12-(10-a). Darko Anadarko
12-(10-b). Way Out of Resource Range
12-(11). The Synergy Ranch

13. The Warsaw Incident

14. Integrity On Trial: The Liability Nightmare

14-(1). Reality Check: Responsible or Irresponsible?
Prudent or Imprudent? Prudent or Perverted?
Definitely not Sustainable and Very Unconventional
14-(2). International Well Bore Integrity Committee Makes
Shocking Statements
14-(3). Big Canada Petroleum and Canadian Government
Gas Migration Studies - 1990s
14-(3.a). Ron P. Schmitz, P. Carlson, M.D. Watson,
B.P. Erno -1993 Husky Oil Study
14-(3.b). R.W. Krooyman, M.B. Muir, R.P. Marcinew,
K. Bennaceur in Manitoba
14-(3.c). Dyck & Dunn in Saskatchewan
14-(4). The 1994 Chafin (in the closet) Report
14-(5). Post Chafin: The New Bradenhead Policies
14-(6). Maestro Muehlenbachs Measures the Mix of
Man-Made Migrant Molecules Making Much
Mischief
14-(7). Dr. Anthony Ingraffea's Eastern Canada Invitational

15. The Last Chapter: What is the Fate of Poland's Water?

15-(1). The Krakow Declaration
15-(2). Groundwater Protection and Monitoring

Conclusion


Appendixes


Appendix A: B.C. Tap Water Alliance:
- Presentation to the Canadian federal Standing Committee
on Natural Resources, February 3, 2011;
- Press release - Public Inquiry Needed to Address Human
Health and Environmental Risks Posed by Shale Gas
Drilling, Coalition Says

Appendix B: Halliburton News Release, July 9, 2010 - First
Shale Fracturing Operation in Poland


Appendix C: David L. Goldwyn

Appendix D: Andrew Nikiforuk Articles, in The Tyee (March
17, 18, 2011) - The Gwyn Morgan File: Rise of a
Shale Gas Baron, and EnCana's Grip on BC

Appendix E: Landman-Gate

Appendix F: Andrew Nikiforuk, 2006 - Fire Water and Dr.
Muehlenbachs

Appendix G: WPP